If you are a Keralite, chances are that you have already came across kudumbasree workers or been using one of their home-made products from units. This UN award winning platform have been here for 20 years now, empowering women and eradicating poverty. Their services and products are one of the most sought after in the state of Kerala, where labour shortage is a big menace. Through empowering women and helping them achieve their potential, Kudumbashree has brought 41 lakh families under its direct benefit. And all these service and products are going online.
According to information from their website, " 'Kudumbashreebazaar.com' is the online exclusive E – Commerce portal of Kudumbashree, a general purpose e-store where Kudumbashree products (selected products) can be bought from the comfort of home through the Internet. The online portal will provide an online marketing platform for Kudumbashree products where customers can browse the catalog and select products of interest."
History
Kudumbashree, a female-oriented, community-based, poverty reduction project of Government of Kerala. Kerala is an Indian state lying in the south-west part of Indian subcontinent, where many development experiments are being tested, refined and implemented.
The mission aims at the empowerment of women, through forming self-help groups and encouraging their entrepreneurial or other wide range of activities. The purpose of the mission is to ensure that the women should no longer remain as passive recipients of public assistance, but active leaders in women-involved development initiatives. Kudumbashree movement was launched by former Prime Minister A.B. Vajpayee at a function chaired by the then Local Administration Minister Paloli Mohammed Kutty at Kottakkunnu in Malappuram on May 17, 1998.
Kudumbashreebazaar.com – Buy Kudumbashree products online
"E-commerce is fast gaining ground as an accepted and used business paradigm in the State and elsewhere in the country. More and more business houses are launching 'E-Commerce portals/web sites' providing functionality for performing commercial transactions over the web. It is reasonable to say that the process of shopping on the web is becoming commonplace even in Kerala with an internet penetration of around 35% and increased consumer awareness " , according to information on Kudumbashree's website.
The e-commerce platform in in-line with the development of direct selling bazaars. According to the statement in their website, "To create permanent marketing space for Kudumbashree products and to bring all Kudumbashree products under one common marketing outlet, Kudumbashree mission is initiating Kudumbashree bazaar – a single brand chain of outlets for all Kudumbashree products. 14 Kudumbashree bazaars, one per district and a series of Mini bazaars will be setup in districts to cater to the rising demand of Kudumbashree Products."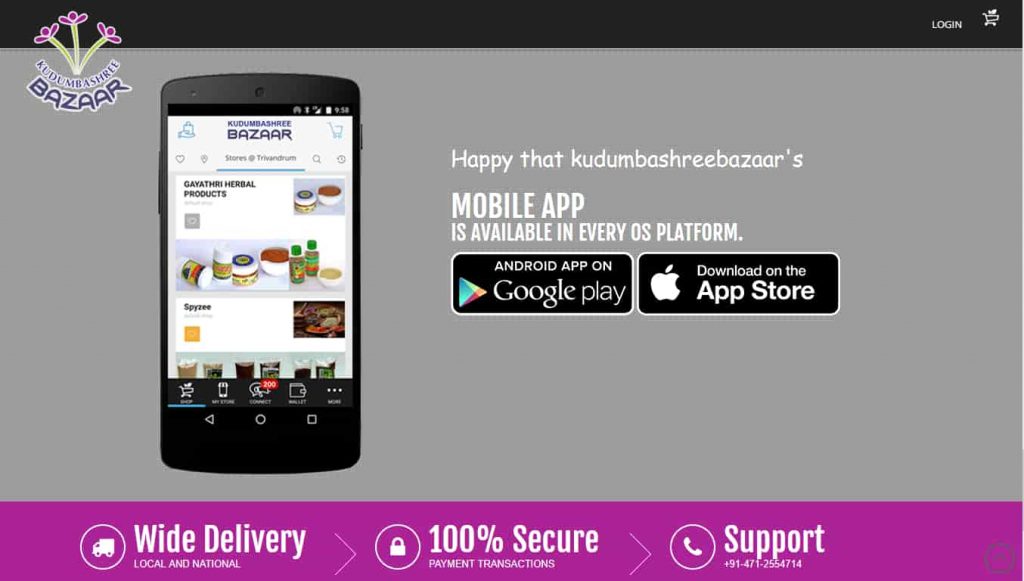 Kudumbashree bazaar website & e-commerce app is being built by Streetbell Technologies, a Trivandrum based hyperlocal e-commerce company.
For more technology blogs, subscribe to athul.in